We are proud to present the release of Gitea version 1.18.0.
We highly encourage users to update to this version for some important bug-fixes, but make sure to check out the breaking changes.
We have merged 535 pull requests to release this version.
We would like to thank @pboguslawski for reporting the reverse proxy authentication issue, and @zeripath for the subsequent fix.
We would also like to thank @appleboy and @silverwind for the other security fixes in this release.
You can download one of our pre-built binaries from our downloads page - make sure to select the correct platform! For further details on how to install, follow our installation guide.
We would also like to thank all of our supporters on Open Collective who are helping to sustain us financially.
Have you heard? We now have a swag shop! 👕 🍵
Now, let's get into the changes!
Breaking Changes​
❗ Remove ReverseProxy authentication from the API (#22219)​
Access to the API was removed for ReverseProxy authentication. Users will now be required to use tokens or basic auth.
❗ Mailing: Rework mailer settings (#18982)​
If you specify credentials for sending emails but the server doesn't support using them, Gitea will fail to start instead of sending mails unauthenticated.
Use unique mailer.PROTOCOL for different mailers (SMTP family, sendmail, dummy), instead of MAILER_TYPE+PROTOCOL.
The combined mailer.HOST option has been deprecated in favor of the new mailer.SMTP_ADDR and mailer.SMTP_PORT options.
The mailer.IS_TLS_ENABLED option has been deprecated in favor of using the new mailer.PROTOCOL option, which accepts smtp, smtps, smtp+startls, or smtp+unix explicitly. If you don't know what protocol your provider uses but provide a port, you can leave it blank and it will be inferred by the given port. See the non-breaking changes section for more details on the new smtp+unix protocol.
The mailer.DISABLE_HELO (default false) option has been replaced with mailer.ENABLE_HELO (default true). It still does the same thing, but the option was negated to be less confusing.
The mailer.SKIP_VERIFY option has been replaced with mailer.FORCE_TRUST_SERVER_CERT to sound scarier, and to clarify what it does.
The mailer.USE_CERTIFICATE, mailer.CERT_FILE, and mailer.KEY_FILE have been deprecated and renamed to mailer.USE_CLIENT_CERT, mailer.CLIENT_CERT_FILE, and mailer.CLIENT_KEY_FILE.
❗ Some configuration moved from config file to database (#18058)​
Two configurations, picture.DISABLE_GRAVATAR and picture.ENABLE_FEDERATED_AVATAR, have been copied to database config setting table so that admins can change them in the admin panel without restarting the gitea service.
The existing config settings in app.ini will be migrated to the database on first run after upgrading, then the database settings will take precedence.
❗ Authentication: Remove U2F support (#20141)​
Gitea 1.18 completelely removes U2F support. Users should migrate to webauthn if they haven't already.
❗ Templates: Refactor i18n to locale (#20153)​
Any user with custom templates will be affected by this and will need to replace .i18n with .locale.
❗ Templates: Remove MD5 function (#20813)​
The MD5 function was removed due being insecure, and due to being unused with the new approach.
Any user with custom templates will be affected by this and will need to remove any occurrence of the MD5 function.
---
Feature Highlights​
🚀 Add color previews in markdown (#21474)​
It is now possible to see what a given color will look like in markdown, given you wrap the color inside ` `: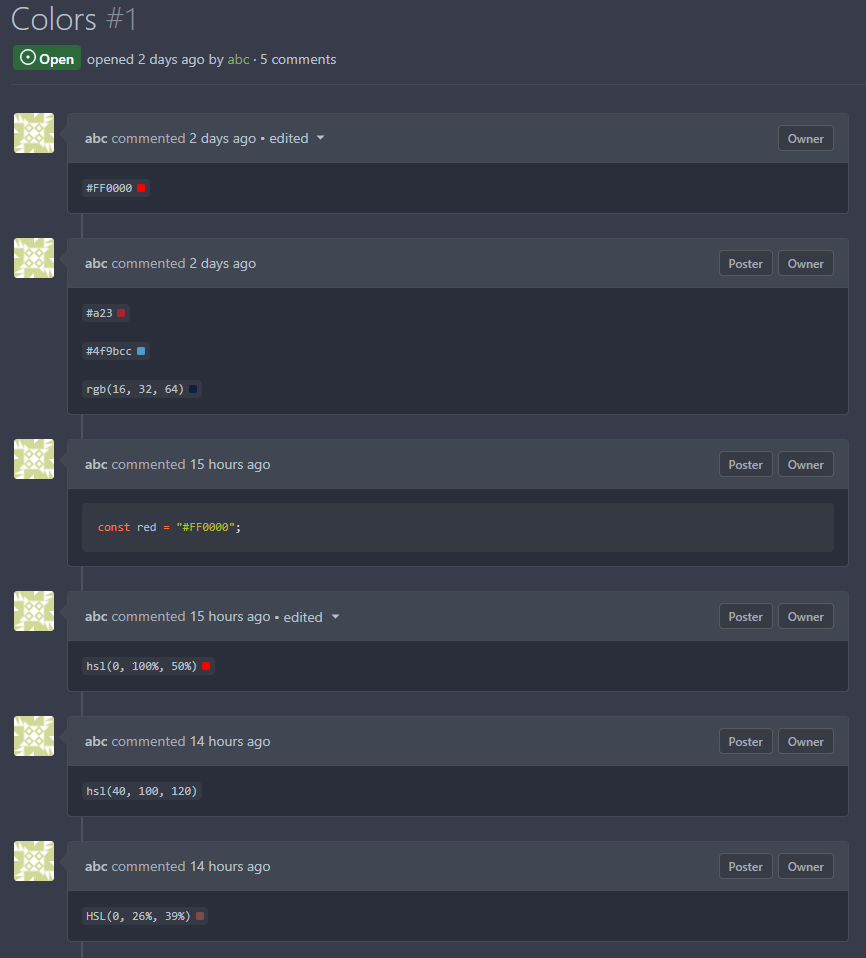 🚀 Package registry: Support for more registries (#21393,#20930,#20688,#20560)​
With Gitea 1.18, the following new registries/functionalities are supported:
Chocolatey/NuGet v2 API (.NET)
Vagrant packages (language agnostic)
npm unpublish (JS/TS)
Pub packages (Dart)
This means that at the moment, the following languages/types can be stored as a package:
Composer (PHP)
Conan (C++)
Container Images
Generic (raw binaries)
Helm Charts
Maven (Java)
npm (JavaScript)
NuGet (.NET, C#/VB)
Pub (Dart)
PyPI (Python)
RubyGems (Ruby)
Vagrant Boxes
🚀 Add API endpoint to get changed files of a PR (#21177)​
The Gitea API now allows you to get a list of files that were changed in a given PR.
🚀 File tree on PRs (#21012)​
It is now easier than ever before to navigate inside the changes of a Pull Request: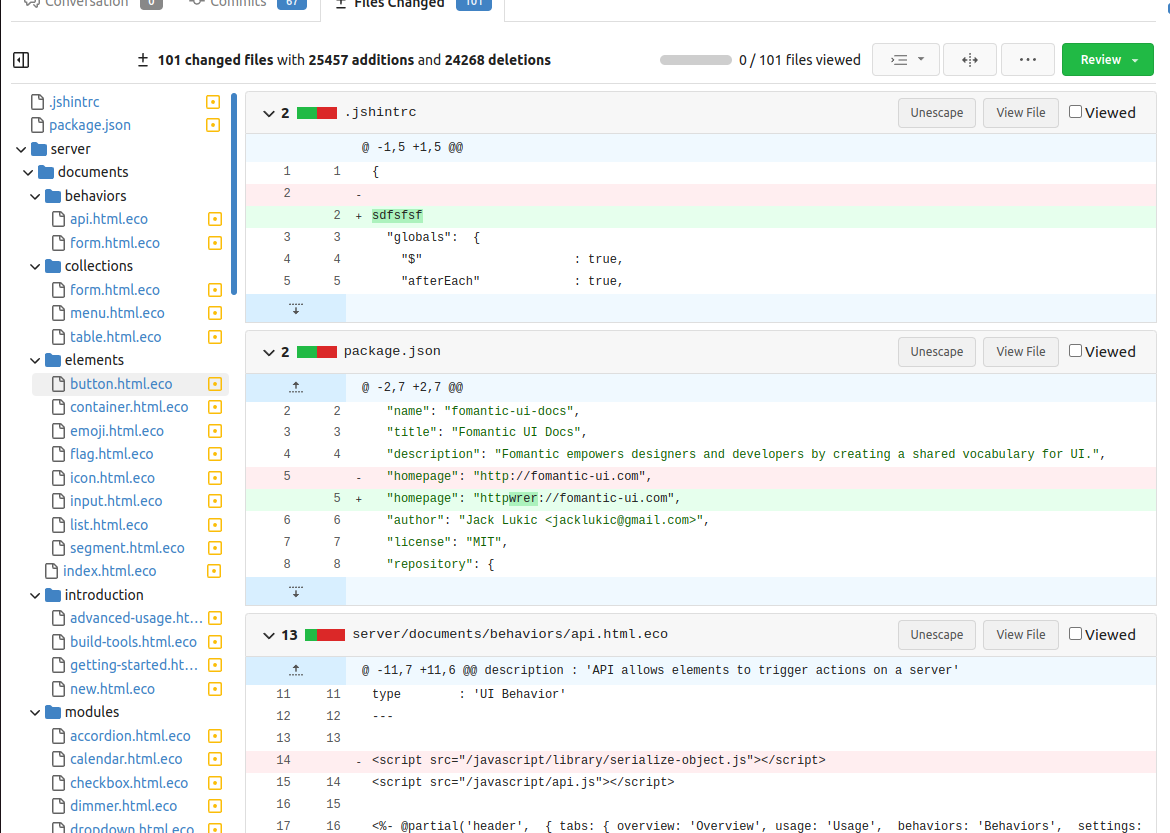 As you can see in the screenshot on the left, this tree represents the file structure of the changes, and can be used to navigate quickly to wherever you want to look.
Tip: The tree is sorted alphabetically, so if you know what you want to find, you'll be quickly able to.
🚀 Issue forms and PR forms (#20987)​
Gitea now supports issue and PR forms as an alternative to free-form markdown.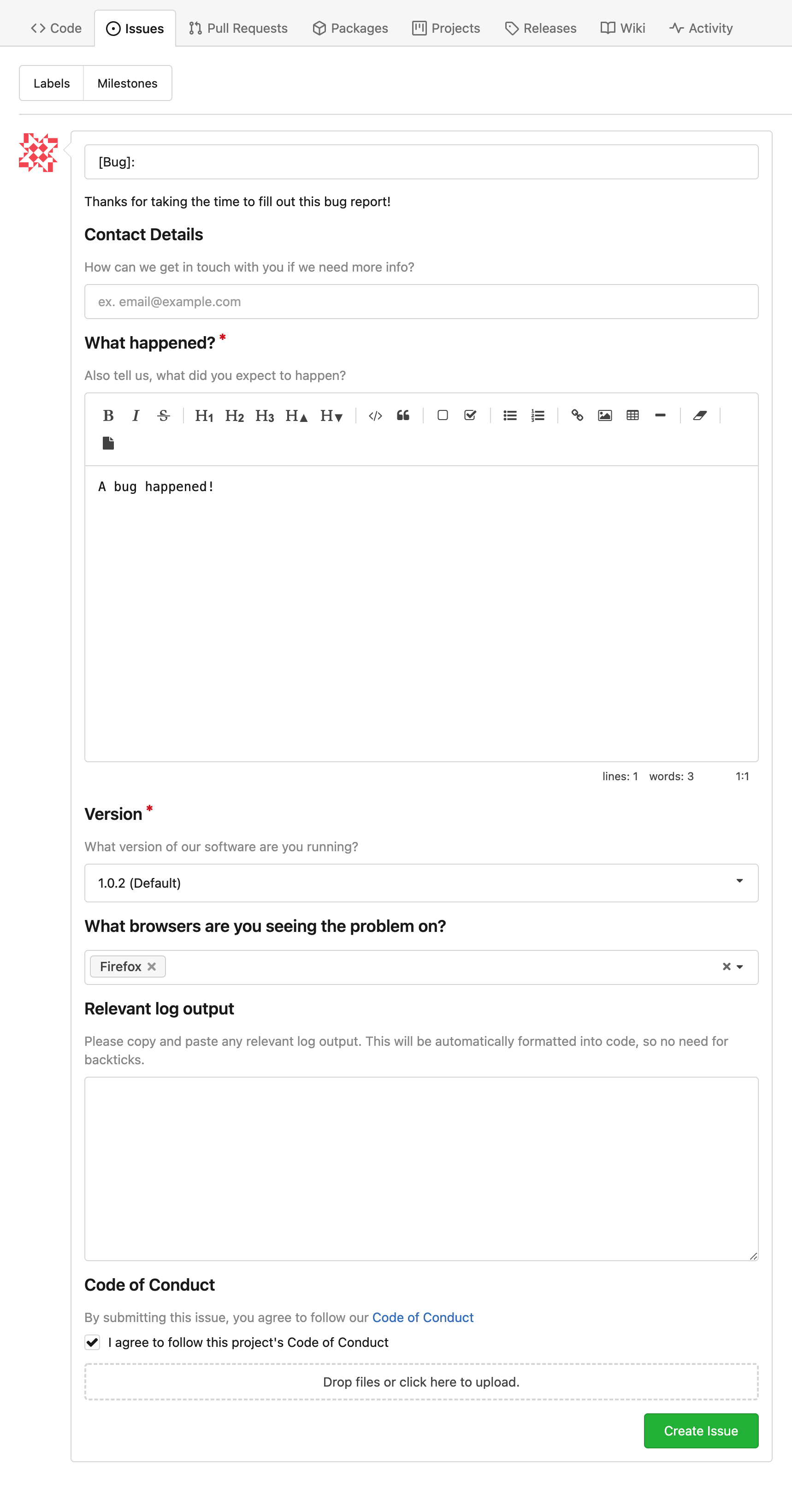 As you can see above, you can require with these forms that certain standards are being met, while being more user-friendly and intuitive at the same time.
🚀 LaTeX math rendering for Markdown (#20571)​
Gitea can now render mathematical formulas using latex syntax inside $…$, $$…$$, \[…\], and \(…\) in markdown content.

🚀 Show localized README (#20508)​
Gitea now tries to match a user's language setting with specially named READMEs to determine which to display.
For example, if a user is using zh-CN as language, then the following READMEs will be considered in that order:
README.zh-CN.md
README.zh_CN.md
README.zh.md
README.md
🚀 Add team member invite by email (#20307)​
You can now send a request to someone (who has no account on your instance yet) to join a team via email.
Once they are invited, they can register and join the team via link.
🚀 Different Unicode Detection/Escaping Mechanism (#19990)​
Previously, Gitea used a rather erroneous system to detect invisible/confusable characters.
The algorithm was now updated to a version that resembles the behavior of Visual Studio Code, which should hopefully produce fewer errors.
🚀 User/organization code search (#19977)​
Users can now enable and use code search across an entire user or organization.
Say goodbye to having to guess if, and where, some text might be located inside the specific repos.
To use this feature, you need to have an indexer configured.
🚀 Sitemap support (#18407)​
Gitea can now serve a sitemap automatically, to let search engines know what content is available.
🚀 System setting table (#18058)​
Previously, all configurations were done inside your app.ini. \ This isn't necessarily the case anymore, as Gitea now also has a database table system_setting that can be used to store settings.
This table has two benefits:
The app.ini won't grow as much anymore as it did previously
Settings inside the database can also be updated while the instance is running, even from the UI where set up
At the moment, only two settings (picture.disable_gravatar and picture.enable_federated_avatar) have been migrated to the database table.
🚀 Sync push mirror on commit (#19411)​
Gitea can now sync push mirrors whenever a new commit is pushed.
Look for the new checkbox in Mirror Settings to enable it.
🚀 Purge users (#18064)​
As many admins of instances with open registration will have noticed already:
From time to time, spam users will register.
Previously, admins had a hard time removing such a user.
This is now much easier, as you can purge any trace of a user simply by executing gitea admin user delete --purge $USER. \ Alternatively, you can also check Purge User inside the UI when deleting that user from the admin dashboard.
Changelog​
SECURITY
BREAKING
FEATURES
API
ENHANCEMENTS
BUGFIXES
TESTING
BUILD